Buttergate and the Demand for Transparency

Category: Management | Topic: Public Trust and Consumer Advocacy

Posted Date: May 13, 2021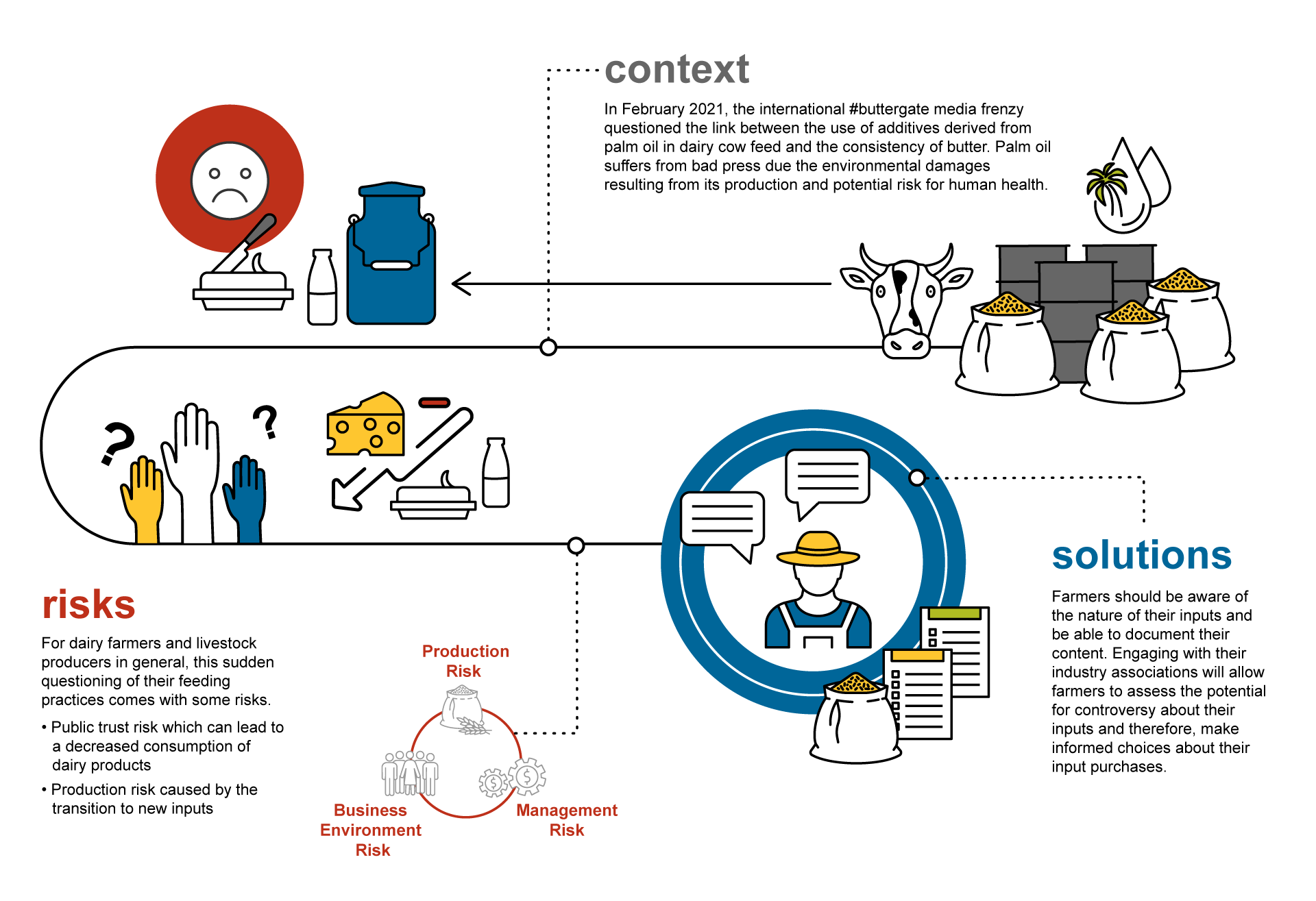 The context
In February 2021, the international #buttergate media frenzy questioning the link between the use of additives derived from palm oil in dairy cow feed and the consistency of butter was initiated by a Facebook post on Julie van Rosendaal's "Dinner with Julie" Facebook page, and followed by a Twitter poll posted by Dr. Sylvain Charlebois of Dalhousie University.
The controversial nature of palm-oil-derived ingredients used in animal feed is related to the bad press for palm oil in general due the environmental impacts resulting from its production and the potential risk for human health.
The use of such additives is perfectly legal in Canada and no direct link has been established so far between the level of palm-oil-derived ingredients in Canadian dairy cow feed and the firmer consistency of butter at room temperature which was observed recently in Canada.
However, several dairy industry associations (CILQ, PLQ and DFC) have asked dairy farmers to stop using feed containing palm oil ingredients to preserve the trust of Canadian consumers in dairy products.
In the meantime, some Canadian dairy farmers were asked directly whether they were using palm oil in the feed given to their cows.
What does it mean for farmers?
For dairy farmers and livestock producers in general, this sudden questioning of their feeding practices comes with some risks.
PUBLIC TRUST RISK
The difficulty to promptly respond to new industry demand or to questions from neighbours/consumers could increase the risk of losing public trust.
BUSINESS RISK
This could reverberate further into a decrease in dairy product consumption which would put the farm revenues at risk because of the supply management system.
This highlights the risk coming from an inadequate or incomplete information system to manage the farm.
PRODUCTION RISK
Meanwhile, industry demands may require farmers to use new inputs which in turn may carry some production risk (decrease in milk production and/or fat content) because of the transition to new feed and related practices.
How can farmers manage this risk?
The first step for farmers is to be aware of the nature of their inputs and to be able to document their composition. For instance, a dairy farmer should ask for the detailed list of ingredients used in commercial feed for each of the batches purchased, as the precise list of ingredients may change while the nutritional characteristics remain unchanged.
Engaging with their industry associations will allow farmers to assess the potential risk of controversy around their feed and therefore help them to make better informed choices about their input purchases.