Supply Chain Disruptions

Category: Management | Topic: Market Disruptions

Posted Date: April 13, 2021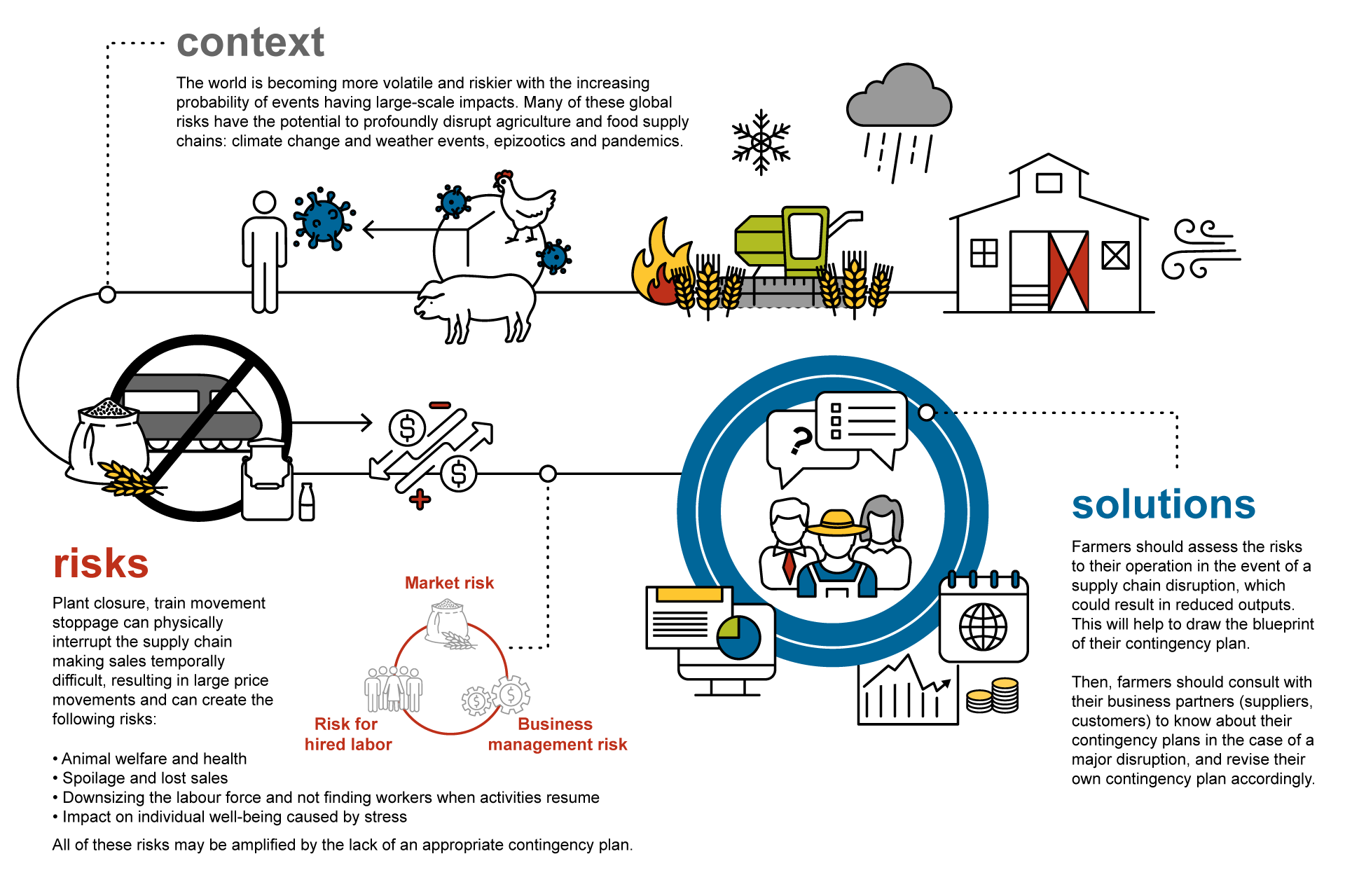 Context
The COVID-19 pandemic has shown how food supply chain could be disrupted quickly at a large scale, especially in the meat industry but also for dairy and produce.  This physical disruption of the supply chain also led to a volatile price environment.
However, the grain industry also experienced a large-scale disruption of their supply chain during the Winter of 2013/14, which was caused by the combination of inclement weather and unfavorable business environment for the movement of grain. This also happened during the Winter of 2019/20.
More generally, the world is becoming more volatile and riskier with the increasing probability of events having large-scale impacts.  Many of these global risks have the potential to profoundly disrupt agriculture and food supply chains: climate change and weather events, epizootics and pandemics.
The increased risk of large-scale disruption will certainly lead to changes in how food supply chains are structured and governed.
What does it mean for farmers?    
MARKET RISK
First and foremost, plant closures and train stoppage will physically interrupt the supply chain making sales temporally difficult and resulting in large price fluctuations.
PRODUCTION RISK
The closure or disruption of the physical supply chain may result in:
Having to keep animals longer on the farm.
Harvesting crops and products after the optimal date.
These circumstances may create the following risks:
Increased risk in terms of animal welfare and health.
Economic risk as the cost of production increases while sales remain uncertain.
Increased risk of spoilage and lost sales.
RISK FOR HIRED LABOR    
Depending on how long the disruption lasts, the labour force on the farm may need to be downsized, raising the risk to not being able to find the appropriate workers once activities resume.
In the meantime, the risk for individual well-being will increase dramatically during the disruption period given the overall level of stress generated as multiple risks coalesce.
BUSINESS MANAGEMENT RISK    
All the risks above may be amplified by the lack of an appropriate contingency plan.
How can farmers manage this risk?    
First, farmers should assess the risks to their operation in the event of a supply chain disruption, which could result in reduced outputs. This will help to draw the blueprint of their contingency plan. Then, farmers should consult with their business partners (suppliers, customers) to know about their contingency plans in the case of a major disruption, and revise their own contingency plan accordingly.    
Resources
To help farm entrepreneurs manage risks in such situations, the Business Development Bank of Canada (BDC) proposes 8 basic steps to keep in mind when putting together a business continuity plan. They also make available templates you could use to address different situations. Farm Life has also developed a Crisis Tip Sheet to guide farmers through the decision making process.  Lastly, the province of Alberta also has a webpage dedicated to emergency preparedness, which provides useful tips and resources that could be used to prepare for unforeseen emergencies, including those affecting the supply chain.